Next conference contribution:
Thomas Schmid is planning to talk about "Flow of Highly Networked Cellulose Fibers Near a Slot in a Mini-Channel" during the ICMF Conference from 19th to 24th of May in Rio de Janeiro, Brazil
Daniel Mandlez is presenting "Primary fines and their positive influence on specific refining energy with regard to strength development for softwood kraft pulp" at the PaperCon 2019 from the 5th to the 8th of May in Indianapolis, US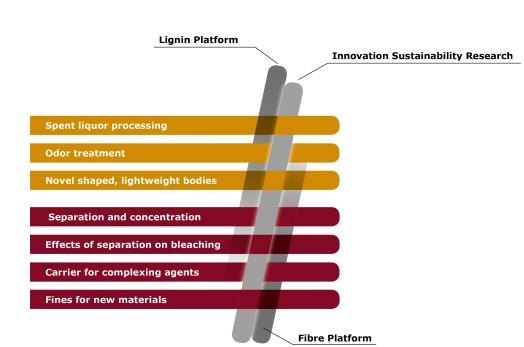 The target of Flippr² is a rising efficiency in utilisation of the components of wood.
To achieve the goal of a higher yield of usable components of wood, Flippr² created two interconnected research areas about lignin and pulp. Platform projects support these areas with analytical Know-how and ecological and economic assessments of developed innovations.
At the research area lignin the existing lignin sources at the company partners shall get utilisable. A platform with experts in analytical issues work together with applied research projects on separation, modification (odor)  and application (foams,...) of lignin.
The same is prepared for the research topics of fibres and fines. An analytical platform prepares general knowledge and serve the application projects which work on fines fractionation and process development, modifcation and application of fines in new materials.
Events
- From 25-28 February 2019 students will have the opportunity to participate to the 2019 Edition of the BioEnergyTrain Student Camp on "Biorefineries and Biobased Industrial Products"  in Linz - Austria
- Paper & Biorefinery Conference: from 5th to 6th June 2019 in Graz - Austria
Here the Call for papers and the information for the Heinzel-Mondi-Sappi Award are available.
Links